Products
Carprog Full V10.05 with 21 Adapters
Model:
Description:
Carprog V10.05 Carprog Full Newest Version (With All 21 Items Adapters)

Top 3 Reasons To Get Carprog V10.05:

1. Latest Version: V10.05
2. Come with All 21 Adapters
3. Support Airbag Reset Function Well
OS: Windows XP is tested 100% working without issue, need luck to test carprog full V10.05 on win7 win8 win10 .
Carprog Full Features and Functions:
1. Universal tool - CARPROG has powerful 16-bit MPU and a full set of automotive interface drivers. In basic version you will get hardware with extra functions: 12 input/output pins for EEPROM in-circuit programmer, future possibility's to make on the same hardware Microcontroller programmer, K-line diagnostic, CAN line diagnostic,+5V/+12V output, USB, power supply only from USB.
2. The Low Cost tool - with CARPROG basic you will receive many extra functions (like car radio code calculator CC1, EEPROM programmer and VAG dashboard's programmer by CAN) .
3. User Friendly - Works without any installations, on all PC, use USB to PC link, all adapters schematics diagrams on-line.
4. The best function of it is airbag reset, and it cannot do by antenna.

Carprog full is designed to meet our customers demands of a universal OBD tool for car radios, dashboards, immobilizers repair and some more advanced functions like EEPROM and microcontroller programming.
Carprog full feature: To reset Airbag on most vehicles, CARPROG FULL is the best.
Carprog Full function list:
1.Airbag Reset (Best)
2. Dashboard
3. Immobilizer
4. Transponder
5. EEPROM
6. MCU
7. ECU Chip Tuning
8. Car Radio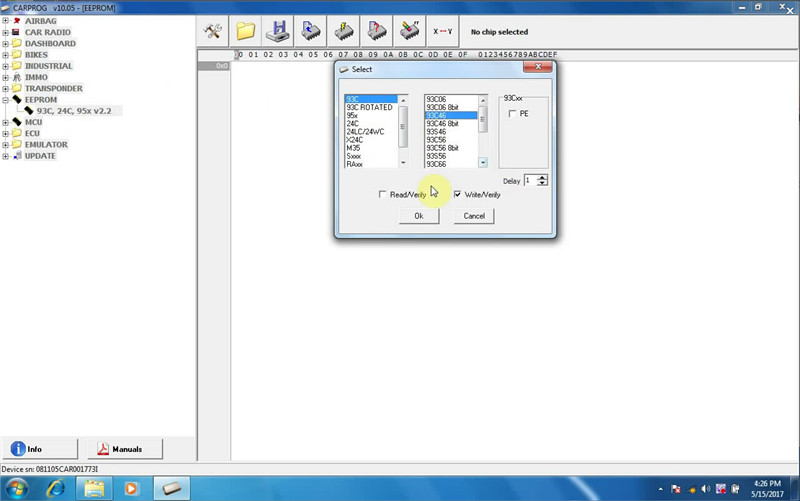 Carprog Full software
ECU-OPEL - OPEL login reader from motor hybrid ECU. Works with Bosch ME1.5.5, Siemens SIMTEC71, SIMTEC71.1, Delco Diesel, Delco Multec.
OPEL CAN - Opel ECU by CAN programmer - read/change mileage in EDC16, MT35E, HSFI 2.2 read PIN, reset ECU
PSG16 - Opel PSG16 diesel pump by OBDII - read/change mileage, read PIN, reset ECU
OPEC28 - Opel Siemens Simtec ECU Tool Advanced
Carprog Full Airbag Support Vehicle List:
VAG (Audi, VW, Skoda, Seat) Airbag Reset Tool
BMW Airbag Reset Tool
Mercedes Benz Airbag Reset Tool
FORD Airbag Reset Tool
GM Airbag Reset Tool by OBDII
CARPROG CR16 Airbag tool - Audi, Mercedes, Ford, Volvo
Renault Airbag reset tool
Peugeot Airbag Reset tool
Citroen Airbag Reset tool
Honda Airbag Reset tool
Audi Airbag reset tool by direct connection to EEPROM or MPU
Ford Airbag Reset tool by direct connection to EEPROM or MPU
Hyundai Airbag Reset tool
KIA Airbag Reset tool
Lexus Airbag Reset tool
Rover Airbag Reset tool
Mazda Airbag Reset tool
Mitsubishi airbag reset tool
Nissan Airbag reset tool
Mercedes Benz Airbag Reset tool by direct connection
Opel Airbag reset tool by direct connection
Saab Airbag reset tool by direct connection
Subaru Airbag reset tool by direct connection
Toyota Airbag reset tool by direct connection
Alfa Romeo Airbag Reset Tool
Fiat Airbag Reset Tool
Porsche Airbag Reset Tool
Suzuki Airbag Reset Tool
Volvo Airbag Reset Tool
Daewoo Airbag Reset Tool
CarProg Full Dashboard Support Vehicle List:
VAG CAN programmer
CarProg Dashboard programming
CarProg Dashboard programming package update
Mercedes Benz ASSYST explorer
VDO dash decrypt tool - Skoda Roomster, SuperB, VW Polo, Audi A3, A6, Allroad with 93C86 odometer change and PIN reading
Ford odometer change by OBDII (by CAN)
VW 2007+ by OBD - Golf, Passat, Eos, Touran, Tiguan, Octavia with Micronas by diagnostic
VAG VDO dashboards by K-line OBDII diagnostic - VW T5, Passat B5, Skoda SuperB and others
2J74YAUDI - Audi 2J74Y repair software for CarProg




News
New Products
Partners
Contact Us
Car2diag Electronic Tech Co.,Ltd.
Add:
Email:
sale@car2diag.com
MSN:
sale@car2diag.com
SKYPE:
autocables
SKYPE:
car2diag03